Voluntary Services Abroad Soc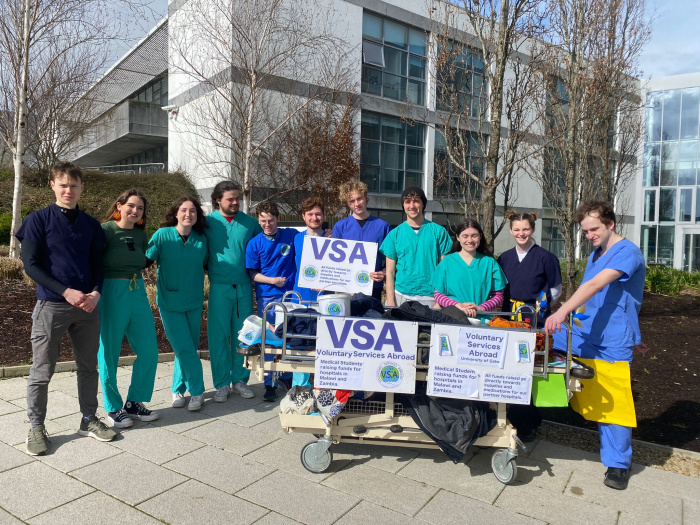 Raising as much money as possible to provide much needed healthcare to developing nations abroad.
Voluntary Services Abroad is a medical aid charity run by the clinical year medical students of University of Galway. Founded in 1977 by Dr. Dom Colbert, it sends groups of students to hospitals in the developing world each summer to learn from their experiences and to work with the hospital to procure medical supplies. These students volunteer their time and efforts throughout the academic year to fundraise for their partner hospital, and to raise awareness of the challenges that it faces.
VSA - bringing medical aid to the developing world (and bringing fun and games to University of Galway) since 1977. We work with our partner institutions to fundraise and provide practical support on the ground, where it is most needed.
If you're interested in getting involved, get in touch!
Since its foundation, more than 400 medical students have been sent overseas as healthcare volunteers, bringing with them funds to develop and support healthcare delivery in the areas they are working. These places have most recently included areas of Zambia and Malawi, and in the past Ethiopia, Kenya, Tanzania, Peru, Ecuador, Belize, Vietnam, the Philippines and India.
Throughout the year, events and as many fundraising activities as the calendar will allow, take place. Some events are now iconic indications of what time of the year it is. For example, the cryptically named Halloween Ball or the equally subtle VSA Christmas Concert; more accurate than an iPhone for telling you the time. Our volunteers raise funds through their own endeavours as well as big events such as our annual Hospital Bed Push and world famous pub quizzes.
Every summer, after looking their exams in the eye, groups of students set off to their chosen destinations where they will spend 4-6 weeks. This time is spent on placement in the partner hospital, honing their their own skills, meeting with hospital administration to agree on equipment to purchase, and gaining personal experience in challenging healthcare environments. Each student participant pays for ALL of their own travel and accommodation expenses, in addition to reaching their own personal fundraising target. This means every euro, cent, and whatever else we find in our buckets, goes directly to the clinics, hospitals and communities in question. 100%. These funds, in discussion with the partner hospitals, is ALL used to buy vital medical equipment and supplies.
Meetings
We meet up whenever we can so get in contact with one of us in the committee via instagram/facebook/email/text/whatever-suits-your-fancy and we'll bring you along to our meetings. Our meetings are normally held in the Clinical Science Institute. We're a pretty friendly bunch and we'd love to have you join us.
Individual events as per the Socs Calendar /emails /word on the street. Join the mailing list, instagram page to keep up to date! We do send out texts about upcoming events so it's vital that you do become a member and update your mobile number (:
Contact Us
Voluntary Services Abroad, Clinical Science Institute, Costello Road, Galway.
Instagram: vsa_ug
Email: vsa@socs.universityofgalway.ie