Musical Society (GUMS)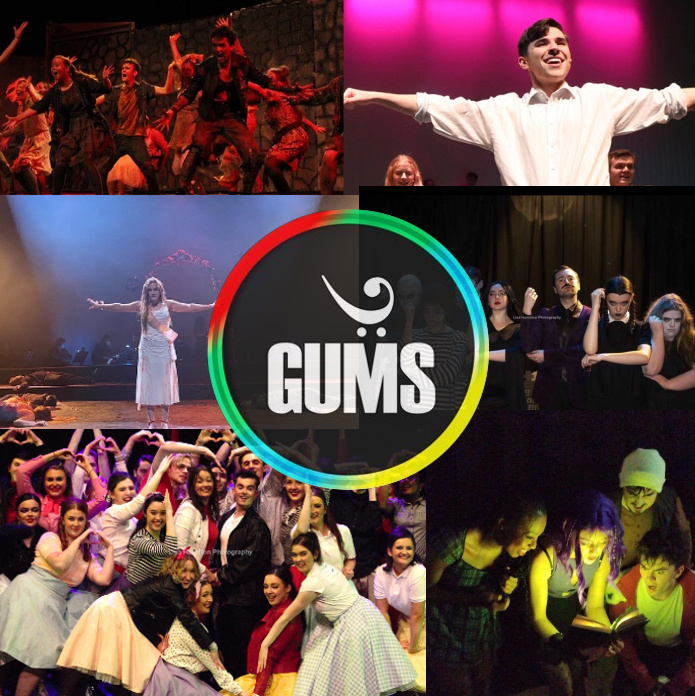 AIMS nominated Galway University Musical Society is now in its 22nd year. Awarded BICS Best Society (Cultural/Academic/Social) in 2018 as well as University of Galway's Most ALIVE Society/ Proudly awarded the Best Overall Show Award at the Musical Theatre Intervarsities of 2022
The Galway University Musical Society (GUMS) is known for being the only college musical society to let everyone take part. It doesn't matter if the closest thing to being on stage was your Junior Infant Nativity play - all that you need to have to be in GUMS is enthusiasm, a love of musicals (or at least to be prepared to love musicals) and a willingness to get involved.

GUMS is the most active society on campus, having won the Most ALIVE Society for three years in a row at the annual Socs Awards. Not only do we put on a full scale musical production annually, but we also have a collaborative musical with NUIG's drama society, Dramsoc, a ton of open mic nights, a competing Musical Intervarsities Team, and other opportunities to perform such as our recently introduced Semester Two Mini Musical, which saw The Addams Family take to the stage last year.
GUMS' main aims are to stage a fantastic show while also encouraging creativity, fun, new friendships and new experiences for all its members. As we're so busy, GUMS is so perfect for first years who feel a little lost when coming to college. We love welcoming new members, and our committee and older members are always ready to help anyone who ever needs it.
Along with all our other events, GUMS like to have a lot of house parties (for bonding), our annual GUMS Ball (full of cheesy music to delight anyone who loves that whole 90's/00's vibe AND of course show tunes) and plenty of other social events in collaboration with other societies and our amazing sponsors around Galway City!
And if you can't commit to our main musicals there are other ways to take part including:
Musical Intervarsities! GUMS took part in the first ever Musical Intervarsities in UCD in 2016 (taking home Best Male Performer and Runner-Up Best Female Performer) and 2017 (winning Best Ensemble and coming 2nd Overall). In 2018, GUMS submitted an entirely original musical, 'The Greenbrier Murder of 1982' written by Patrick Conneely and was awarded Second Place overall, Spirit of Inters and Second Place for Best Male Performer. At the 2019 Intervarsities, which was also hosted by GUMS. We performed 'The Lost and Found of Beanotown' another original musical written by GUMS own Patrick Conneely and were thrilled to take home first place as well as Best Musical Direction and Best Direction. In 2022, we were delighted to take home the Best Overall Show award with our rendition of 'Chicago' under the artistic direction of Kate O'Dowd and the Best Choreography award achieved with pleasure under the amazing work of Lorna Collins and Tara Parkinson. Last year (2023), 'Descendants' took the intervarsity stage under the direction of Aisling Fox which won 3rd Place in the Best Overall Show award and Best Choreography, thanks to the outstanding work of Lorna Collins and Abbie Lane.
Our collaborative musical with Dramsoc takes place in the first semester, so it's perfect for students who might only be in NUIG for the one semester! Last year, we produced 'Tick, Tick, Boom!' which was a massive hit with the university audience.
Our Second Semester Musical which was introduced last year with a hilarious production of 'The Addams Family'. 
And then whatever else our committee can come up with!
Our main musical takes place in the Black Box Theatre of Galway every year. Last year (2022), Elvis took the stage with our production of 'All Shook Up'. In 2021, GUMS was revived following the COVID pandemic with a chilling production of 'Carrie: The Musical'. Other past shows include Kipps: A Half Sixpence Musical (2020), Pippin (2019), The Producers (2018), Urinetown (2017), The Addams Family (2016), Cabaret (2015), The Drowsy Chaperone (2014), Rent (2013), Spring Awakening (2012), The Wedding Singer (2011), The Wiz (2010) and more.
All in all, whether you are a seasoned performer with an ache for front and center, or someone who wants to try their hand at something new either on or off-stage, or even if you just want to make some solid friendships and have a laugh - GUMS is the place for you and our door is always open to new family.
You can find us on Instagram (gumsagram), Twitter (@MusicalSoc_NUIG) and Facebook (GUMS: Galway University Musical Society)
Meetings
Contact Us
Email us at musical@socs.nuigalway.ie
Instagram: gumsagram
Twitter: @MusicalSoc_NUIG
Facebook: GUMS: Galway University Musical Society
TikTok: gumsug