MakerSpace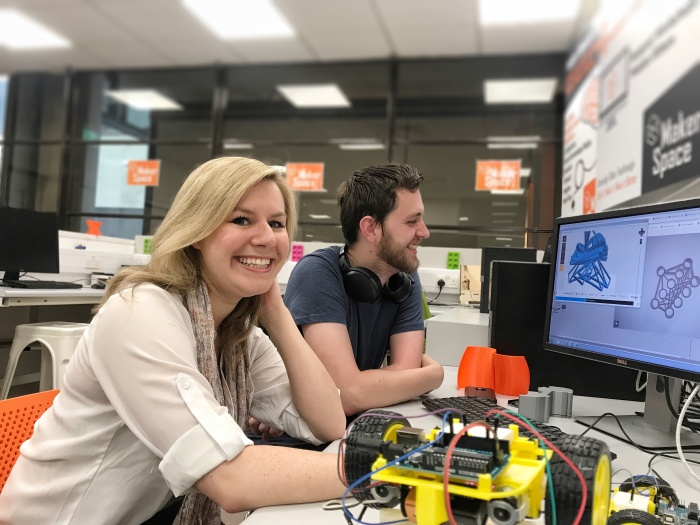 The MakerSpace is a place to imagine, learn, fail, make and remake. The MakerSpace in the Library is open to all students and provides you with an environment to unleash your practical creativity. The MakerSpace contains a suite of PCs, 3D printers and techy toys that can be borrowed. We also provide training sessions on the software and technologies available in the MakerSpace as well as digital art, video production, and much much more.
The MakerSpace is located just inside the University of Galway Library. Go through the turnstiles, turn right and you can't miss it! While the Library is only open in a limited capacity due to Covid-19, the MakerSpace is moving its activities online. 
What do we do?  
In the MakerSpace we make things! It's a place to try out new technology and learn new skills. We offer free 3D printing and free equipment rental to all NUI Galway students. We don't expect you to have any previous experience in 3D printing, or coding. Just have an open mind! It's a great place to make friends and share skills.
How you can get involved
There are lots of ways to get involved with the MakerSpace
Attend a workshop: We're currently running regular workshops online. Some of last years' workshops included "Video production for beginners," "Drone safety basics," and "Wearable tech."  Check out the website to learn more and sign up.
Teach a workshop: Do you have a good grasp of Arduino? Can you make your own roller skates? Do you want to share your skills?  Sign up to teach an informal workshop!
Volunteer: We won't need volunteers until the campus fully reopens, but keep this opportunity in mind! As a MakerSpace volunteer you check equipment in and out to students, run the 3D printers, and answer any questions that other students might have about the MakerSpace and the technology there. Check out a video with two of last years volunteers for a flavour of what's involved.
Meetings
There aren't any regular meetings because we're not officially a society. However, all volunteers are added to a Teams site and we chat on there all the time. 
We also have an annual Christmas party and 3D printed ornament competition. 
Contact Us
Eileen Kennedy, MakerSpace Manager: eileen.kenndy@nuigalway.ie