Law Soc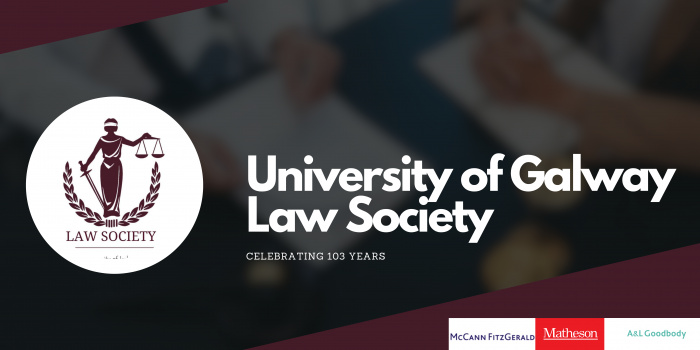 Established in 1920, the Galway Law Society, now in its 103rd year, stands as one of the most prominent academic and social societies at the University. Our mission revolves around supporting students in cultivating a diverse set of legal, clinical, and social proficiencies through tailored events in a fun and friendly atmosphere.
Welcome to LawSoc, the distinguished Law Society of the University of Galway!

As one of the oldest and most substantial societies on campus, we are now embarking on our 103rd session. Our primary goal is to provide invaluable assistance to students aspiring to cultivate a diverse array of legal, clinical, and social competencies. This is achieved through thoughtfully curated events tailored to the distinct interests and requirements of our members.
Our array of offerings includes guest speakers, mooting clinics, volunteer opportunities, workshops, and domestic and international trips. By doing so, we equip our members with a competitive edge as they embark on their career paths. Whether you're aiming to be a solicitor, barrister, or considering alternative avenues following a Law degree, we are dedicated to guiding you and forging connections with firms, organisations, and institutions.
We are immensely proud to be sponsored by A&L Goodbody, McCann FitzGerald, and Matheson. The support of our corporate partners allows us to maintain the society's robust reputation, all while adhering to our core values of integration, education diversification, and the utmost enjoyment.
Anticipate an exhilarating year brimming with diverse events, including our ever-popular Competitions Programme, inspiring Guest Speaker sessions, enlightening Clinical Legal Workshops, engaging Social and Career Events, Networking Opportunities, and an array of other enriching experiences.
We eagerly look forward to extending a warm welcome to our new and returning members in the year ahead. In the interim, we invite you to connect with us on our social media platforms, greet us in person on campus, or reach out via email at lawsoc@socs.universityofgalway.ie.
Meetings
We host our weekly committee meetings in person.
Contact Us
LawSoc,
The Law Society,
c/o Societies Office,
Aras na Mac Leinn,
University of Galway,
University Road, 
Galway