Flirt FM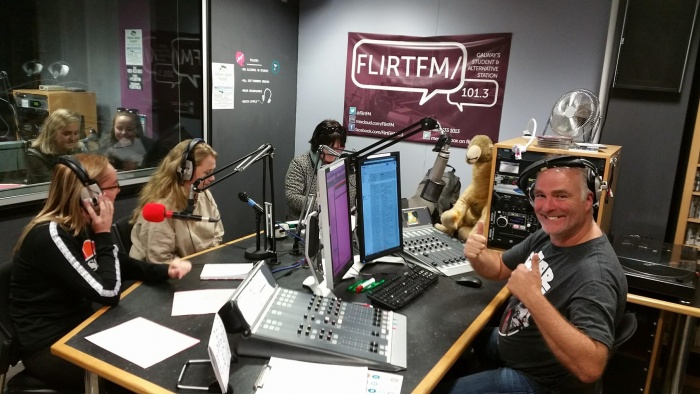 Flirt FM 101.3 is Galway City's award winning Student, Community & Alternative Station, based in Ollscoil na Gaillimhe | University of Galway since 1995
President Michael D Higgins launched the station and returned in 2009 to help us launch our new premises in √Āras na MacL√©inn.

With two full-time and one part-time paid staff - fuelled mostly by caffeine - looking after operations and compliance, the station is home to up to 150 volunteers and many more contributors annually. We also host third level, TY, T√ļs and CE placements each year.
We're on FM 11:00-04:00 Monday-Friday, 13:00-22:00 Saturdays, and we web stream 24/7 all of the time, so even when we're not live on 101.3 you can always listen in. We take time off FM during the busy campus exam periods. Our key areas of broadcast focus are student issues and news, local sports, environmental and science updates and new Irish music.
We are delighted to partner with Foróige, Shining Light, Baboró International Arts Festival for Children, the University of Galway's MAs and BA in Journalism, Acadamh na hOllscolaíochta Gaeilge amongst others to regularly create programming.
Having trained, supported and given a voice to thousands of people over the years, we're as excited about the future as we are grateful for all the volunteers and guests that have gone before.
We're part of the 20+ member Craol Community Radio network and one of the three full-time FM student radio stations in Ireland (with Wired FM, Limerick & UCC98.3 in Cork).


Meetings
We have an initial run of introduction meetings at the start of each semester, followed by desk training, then it's demo time and finally, you go on air! All meetings will be notified in advance by email, so make sure we have your details.
Contact Us
For all enquiries to the station, please email info@flirtfm.ie.
Also see: https://flirtfm.ie/