Cumann Gaelach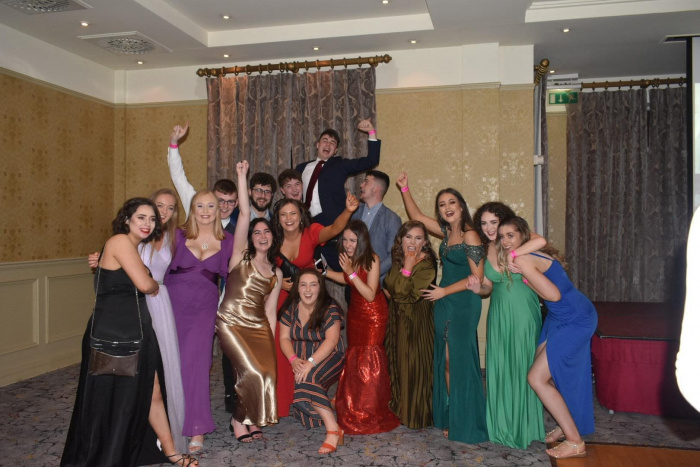 Craic, ceol agus beagán chraic trí mheán na Gaeilge. #GaeilgeAbú
Is pobal muid a bhfuil s√© d'Äôaidhm againn sp√°s a thabhairt do Ghaeilgeoir√≠ a gcuid Gaeilge a √ļs√°id ar bhealach neamhfhoirme√°ilte, i su√≠omhanna spra√≠√ļla. B√≠onn f√°ilte is fichead roimh dhaoine a bhfuil suim acu sa teanga agus sa chult√ļr, m√° t√° siad l√≠ofa, n√≥ muna bhfuil ach c√ļpla focal acu. I measc na n-imeachta√≠ a bh√≠onn √° n-eagr√ļ againn le linn na bliana, beidh;
 
Maidineacha Caifé
Oícheantaí amuigh sa teach tabhairne
Turais chun na Gaeltachta
Turais chuig Oireachtas na Samhna
Pop-up Gaeltacht
Comhpháirtíocht le Cumainn Ghaelacha eile
Ciorcal Comhr√°
B√°l na Gaeilge
 
B√≠g√≠ linn go bhfeicfidh t√ļ an chraic a bh√≠onn againn gach seachtain!
 
An Cumann Gaelach is a community which aims to provide a space to Gaeilgeoirí to use their Irish in an informal way in a fun way. Anybody with an interest in the Irish language and culture is welcome, whether they be fluent or not. Our events take place on-campus as well as off-campus. Our events include:
Coffee & Trad mornings
Nights out in the pubs
Trips to the Gaeltacht
Trip to Oireachtas na Samhna
Pop-up Gaeltacht
Collaboration with other Cumainn Ghaelacha
Conversation circles
Bál na Gaeilge 
 
Be with us to see the fun we have each week!
Come to our events, learn a bit or improve your Irish, meet a few new friends and have the craic! 
 
Meetings
Contact Us
Oifig 114, √Āras na Gaeilge, Ollscoil na Gaillimhe.
Rphost: cumanngaelach@socs.universityofgalway.ie
Instagram: cumanngaelach_og
Twitter: GaeilOEG